Contact us for specifics about your neighborhood?
UPDATED 7/13 – New listings in MRED's (northern Illinois) marketplace rose by 25% week-over-week following the holiday. The 7,978 new listings from July 5-12 was a 9% decrease compared to the same period in 2020.
Illinois Housing Market at a Glance
The statewide median price in May was $262,000, up 21.8% from $215,050 in May 2020. The median is a typical market price where half the homes sold for more and half sold for less.
Homes for sale totaled 25,426, a 45.7% decline from May 2020 when there were 46,791 homes on the market.
The monthly average commitment rate for a 30-year, fixed-rate mortgage was 2.95% in May 2021, a decrease from 3.06% the previous month, according to the Federal Home Loan Mortgage Corp. In May 2020, it averaged 3.23%.
Last month, 12,768 homes (single-family and condominiums) were sold in the nine-county Chicago Metro Area, a 63.5% increase from the 7,809 homes sold in May 2020.
The median home sale price in May 2021 was $310,000 in the Chicago Metro Area, an increase of 19.2% from $260,000 in May 2020.
"The market continues to exhibit positive growth in sales and prices," said Geoffrey J.D. Hewings, emeritus director of the Regional Economics Applications Laboratory at the University of Illinois. "However, affordability is again becoming a challenge as the National Association of REALTORS® noted that more than 50 percent of recent sales were made with a down payment of 20 percent or more, making it difficult for first-time buyers to offer competitive bids."
Sales and price information are generated by Multiple Listing Service closed sales reported by 23 participating Illinois REALTORS® local boards and associations including Midwest Real Estate Data LLC data as of June 7, 2021, for the period May 1 through May 31, 2021. The Chicago Metro Area, as defined by the U.S. Census Bureau, includes the counties of Cook, DeKalb, DuPage, Grundy, Kane, Kendall, Lake, McHenry, and Will.
National Association of Realtors Housing Market Update
Price appreciation is occurring in the market at unprecedented levels, with a 24% increase in the median home price from one year ago. Home sales declined for the fourth consecutive month by 1%, while up 45% from one year ago. Record-high home prices and lack of inventory are both limiting potential home sales.
What's Happening Across the Country?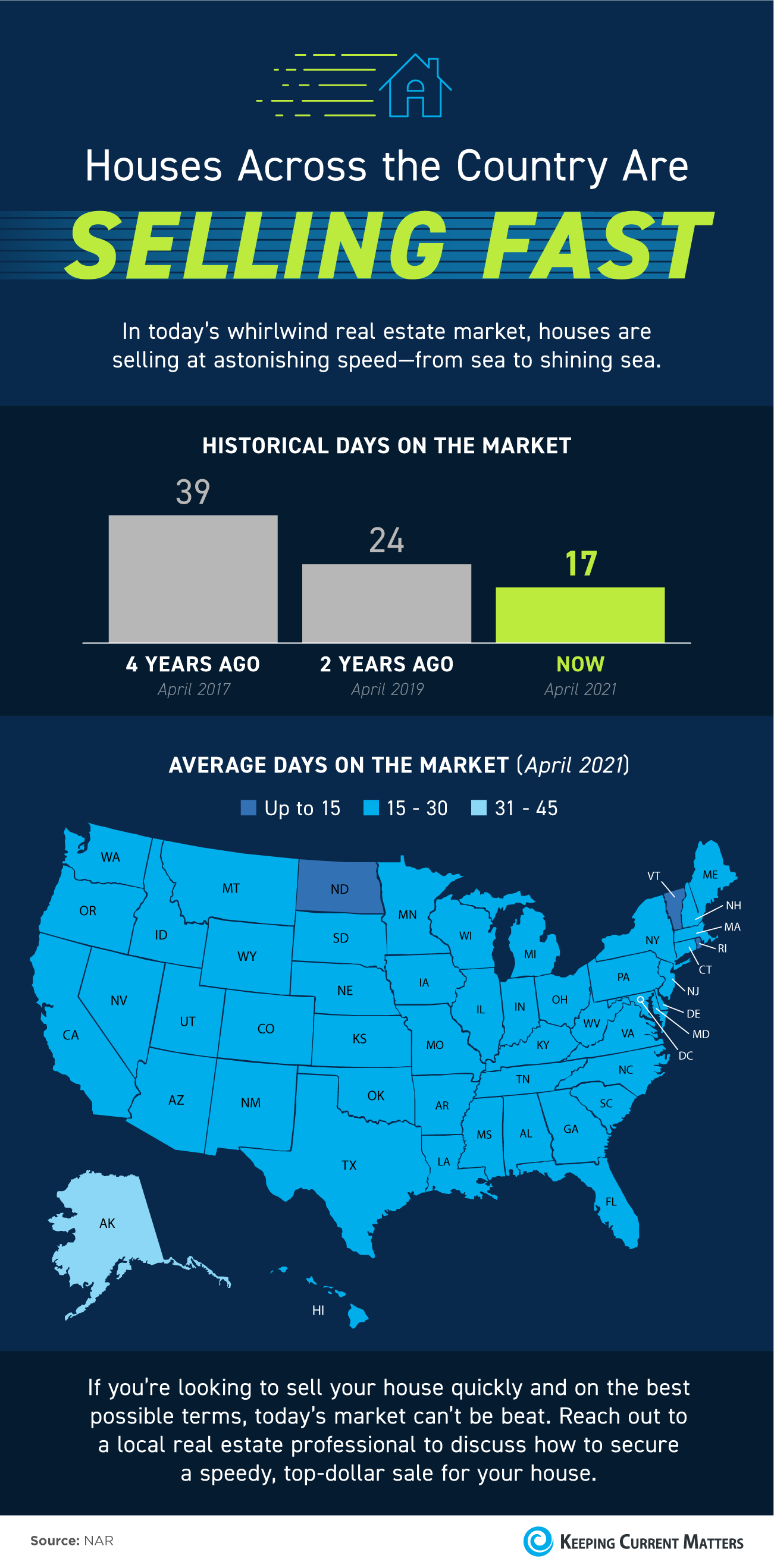 Some Highlights
In today's whirlwind real estate market, houses are selling at astonishing speed – from sea to shining sea.
Four years ago, the average house spent 39 days on the market. Two years ago, homes were on the market for about 24 days. Today, that number has dropped to just 17 short days.
Are We in a Housing Bubble?
Are we in a housing bubble? Escalating home prices have both buyers & sellers worried that the market is just "too good to be true," and agents across the U.S. are getting bombarded with the ultimate question: "Are we in a housing bubble?". Let's take a look at what the experts say.