Contact us for specifics about your neighborhood?
Illinois Housing Market at a Glance
Sellers continued to reap the benefit of reduced inventory and interest in Illinois homes as statewide median prices rose 8.4% in August, according to data from Illinois REALTORS®.
As the back-to-school season kicked off, homes sold in an average of 24 days statewide in August 2021, compared to an average of 46 days in August 2020. The statewide median price in August 2021 was $257,000, compared to $237,000 in August 2020. The median is a typical market price where half the homes sold for more and half sold for less.
The number of homes for sale declined to 31,054, a 28.9 percent drop from August 2020 when 43,653 homes were on the market.
Statewide home sales (including single-family homes and condominiums) in August 2021 totaled 18,492 homes sold, down 2.4 percent from 18,938 in August 2020.
"Last month, the law of supply and demand once again manifested itself in the state's housing market," said Sue Miller, president of Illinois REALTORS® and designated managing broker of Coldwell Banker Real Estate Group in McHenry. "What few homes that were available got snapped up quickly – with sellers getting more than their asking price due to the low inventory."
Last month, in the Chicago Metro Area the median home sale price was $300,000, an increase of 7.1% from $280,000 in August 2020. Homes sold an average of 21 days in the area in August 2021, compared to an average of 38 in August 2020.
A total of 13,204 homes (single-family and condominiums) were sold in the nine-county Chicago Metro Area in August 2021, a 2.5% decrease from the 13,540 homes sold in August 2020.
Sales and price information are generated by Multiple Listing Service closed sales reported by 23 participating Illinois REALTORS® local boards and associations including Midwest Real Estate Data LLC data for the period. The Chicago Metro Area, as defined by the U.S. Census Bureau, includes the counties of Cook, DeKalb, DuPage, Grundy, Kane, Kendall, Lake, McHenry, and Will.
National Association of Realtors Housing Market Update
Realtor.com Housing Market Update – 9/17/21
What's Happening Across the Country?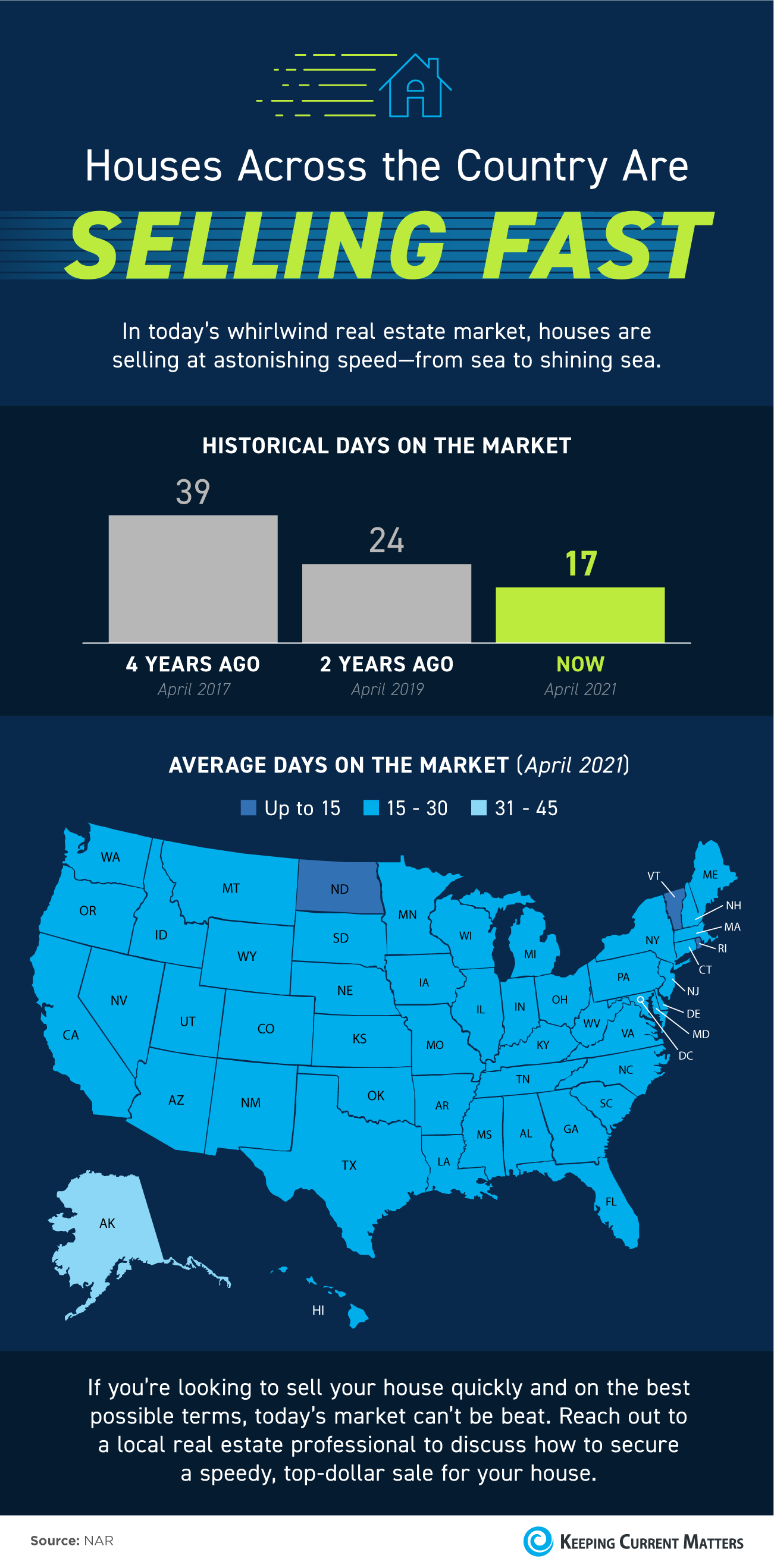 Some Highlights
In today's whirlwind real estate market, houses are selling at astonishing speed – from sea to shining sea.
Four years ago, the average house spent 39 days on the market. Two years ago, homes were on the market for about 24 days. Today, that number has dropped to just 17 short days.
Are We in a Housing Bubble?
Are we in a housing bubble? Escalating home prices have both buyers & sellers worried that the market is just "too good to be true," and agents across the U.S. are getting bombarded with the ultimate question: "Are we in a housing bubble?". Let's take a look at what the experts say.